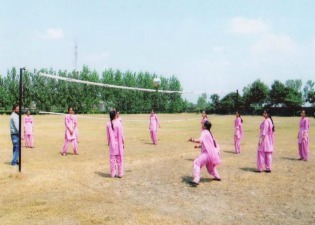 Play Ground
College has play ground within its premises for different outdoor   games. The students of the college have won many prizes for their   best performance at inter College competitions held tine to time.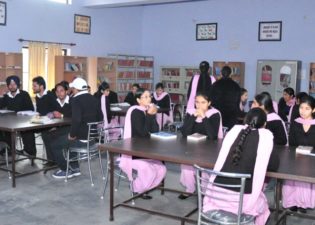 Library
College has a very spacious & ventilated library having booking in number of thousands on various subject related to B.Ed course, General Education and other education spheres newspaper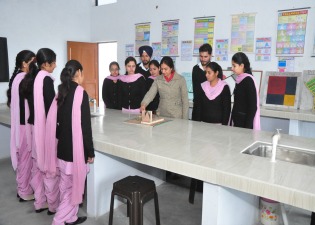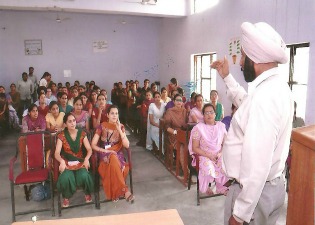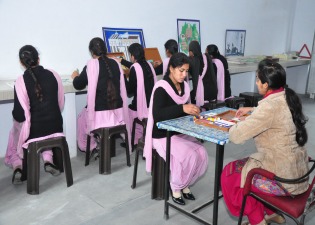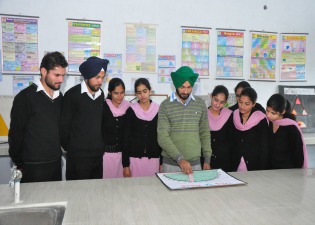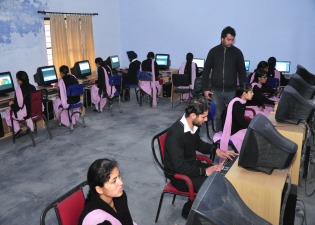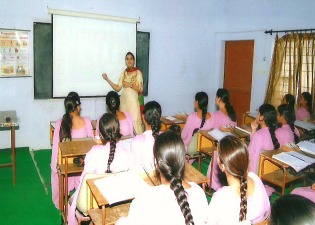 Language Lab,   Language Lab,     Computer Lab,   Psychology Lab,    Science lab,    Social Studies Lab,   Mathematics Lab Lab
Infrastructure
"Bad libraries build collection,
Good libraries build services,
Great libraries build communities.''
The college has well equipped library with more than 55 hundred Books. Apart from text Books, General books, Reference Books, Encyclopedias educational research Journal, magazines and newspaper. The Students are expected to make maximum use of the library. To keep the books in Circulation and make them available to all students the withdrawal of books will be governed by the following rules.
D.El.Ed.    3 Books at a time
B.Ed          3 Books at a time
Staff         5 Books at a time
These Books cannot be retained for more than 15 days. The Books in short supply may be loaned for a week only. These Books must be renewed after two weeks and three weeks by the students and staff respectively.
The Borrower will check and point out if there is any page missing of other damage to the books at the time of borrowing, after you have got them issued in your name then it is your responsibility to return them in proper form. Never write, scribble, underline or tear the page of a book otherwise disfigured books will not be accepted by the librarian and you will have to replace them. Reference, Rare, Reserve books are very costly and periodicals shall not be issued. These be consulted with in library premises.
Every student must be in possession of this Identity-cum-library card while in college.
If the card is lost a duplicate card will be issued on payment of Rs. 30.
| | | | | |
| --- | --- | --- | --- | --- |
| S. No. | ITEM | TOTAL | B.ED | D.EL.ED |
| 1. | Books | 6,103 | 5,000 | 1,103 |
| 2. | Titles | 2,343 | 1,924 | 419 |
| 3. | Journals | 12 | 12 | – |
| 4. | E-Journals | 4 | 4 | – |
| 5. | Encyclopedia | 73 | | |
| 6. | Dictionaries | 69 | | |
| 7. | Reports | 23 | | |
| 8. | Magazines | 10 | | |
List of National Journals
Edu- Track
University News
Science Reporter
Research Tandam
Indian Educational Review (NCERT)
Miracle of Teaching
Journal of Edu. Technology
Resonance, Journal of Science Education
Bharteya Adhunik Shiksha (NCERT)
Indian Journal of Teacher Education
Journal of Indian Education
List of International Journal
New Frontiers in Education
List of E-Journals
TechnoLearn: An International Journal of Educational Technology.
Shikshan Anveshika.
Journal of Teacher Education and Research.
Learning Community- An International Journal of Educational and Social Development.
List of Magazines
Competition Success Review
General Knowledge
India Today
Sport Star
Grihashobha
Reader's Digest
Chronicle
Yojana
Health
Digit
Language Lab
Well equipped language lab to enhance the 4R's (Listening, speaking, reading & writing )
Arts & craft resource Centre
The institute has a spacious art and craft room where students visit during free hours and consult the fine arts teacher whenever need arises and mainly at the time of Teaching Aid Preparation.
Physical Education Resource Room
Well equipped sports room for the over all development of the pupil teachers.
Water Cooler
Purify Water
Canteen
Canteen is also provided to have the refreshment for the students.
Photostat Machine
For the convenience of all the students and other concerned Photostat machine has been installed in college.